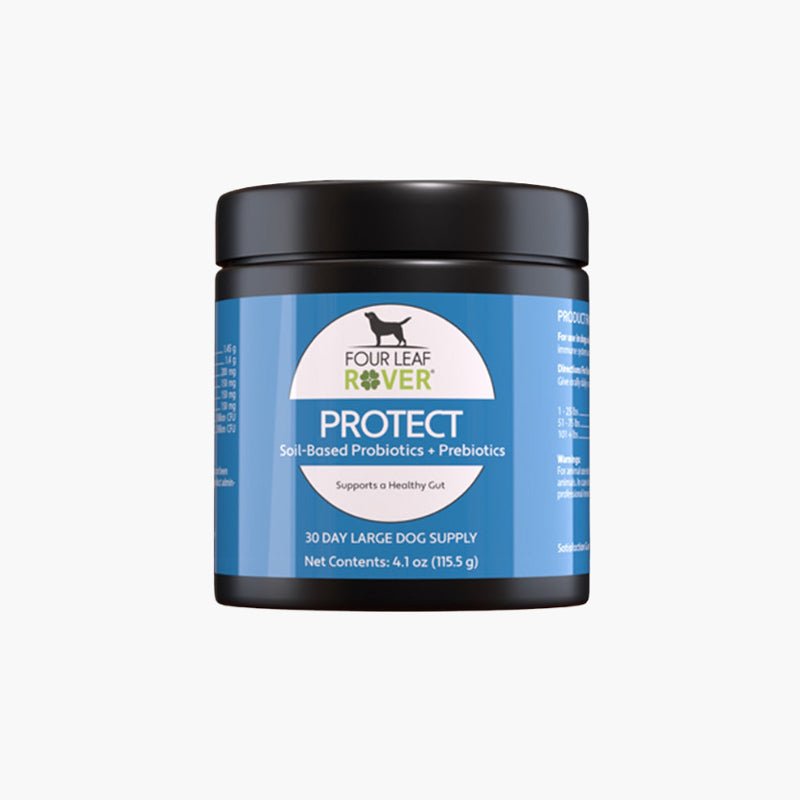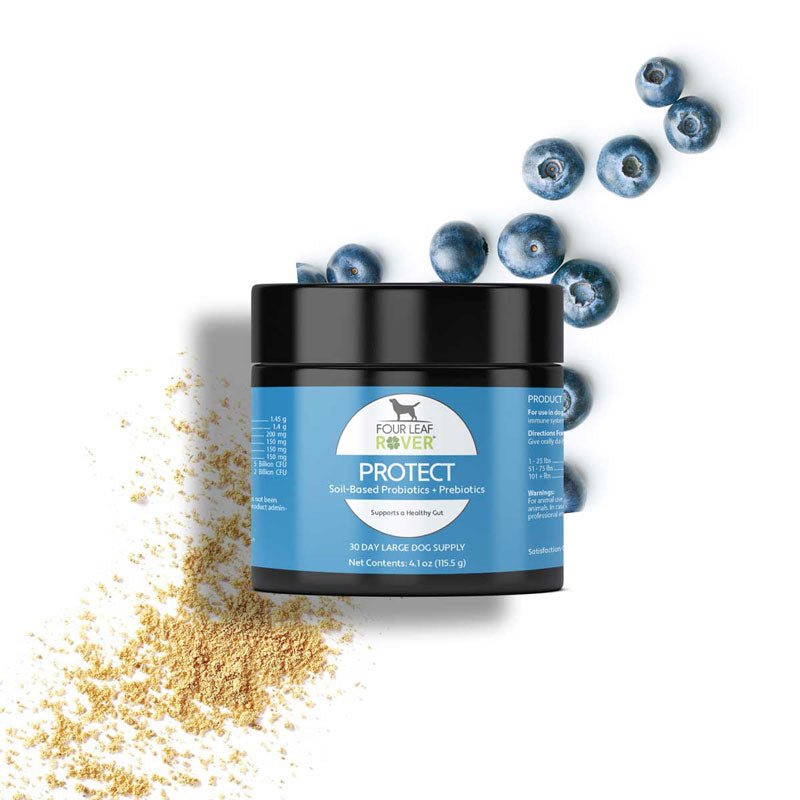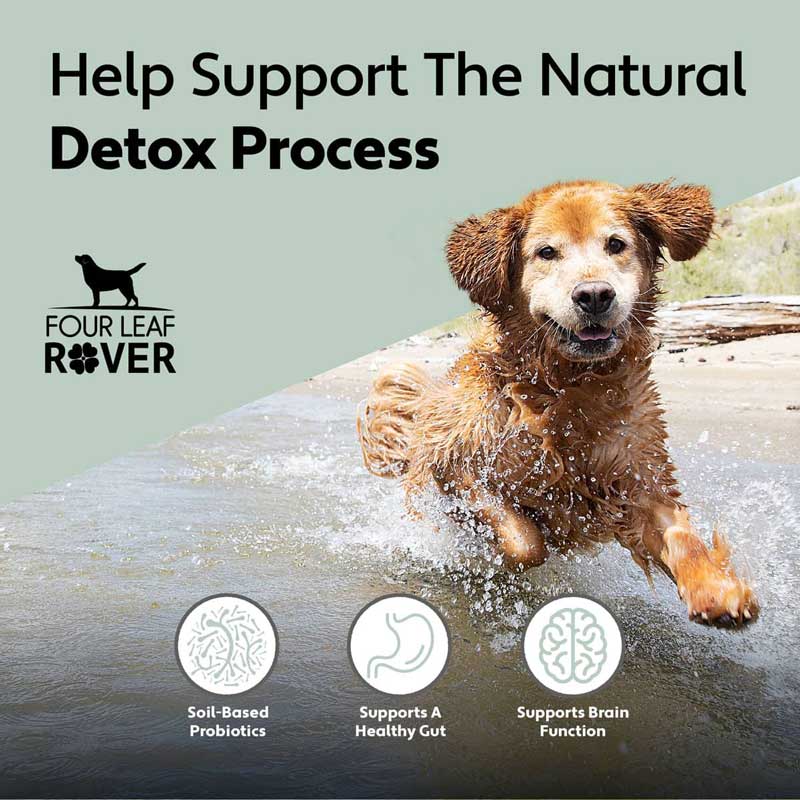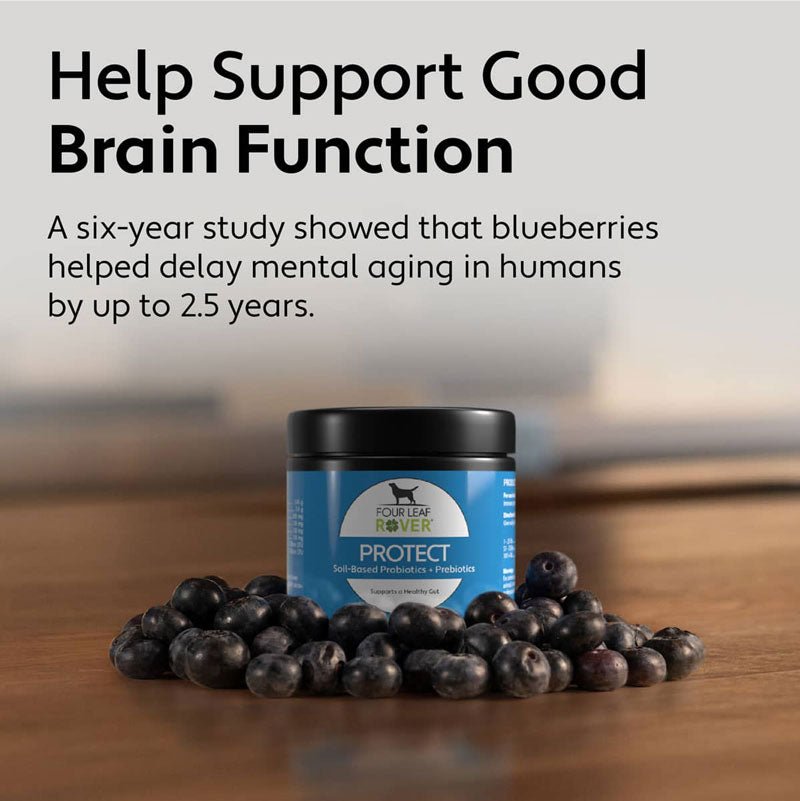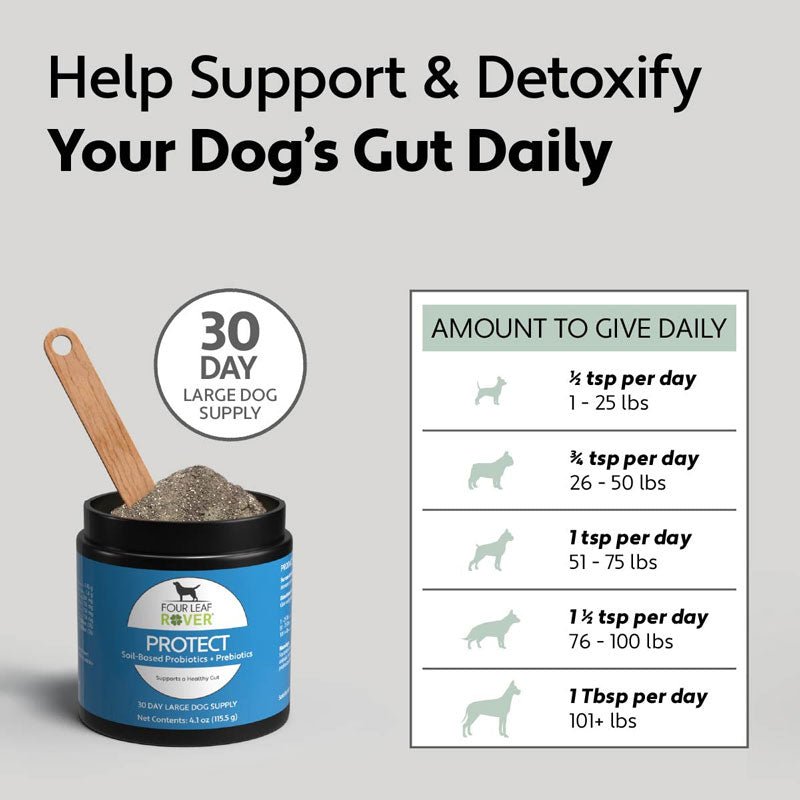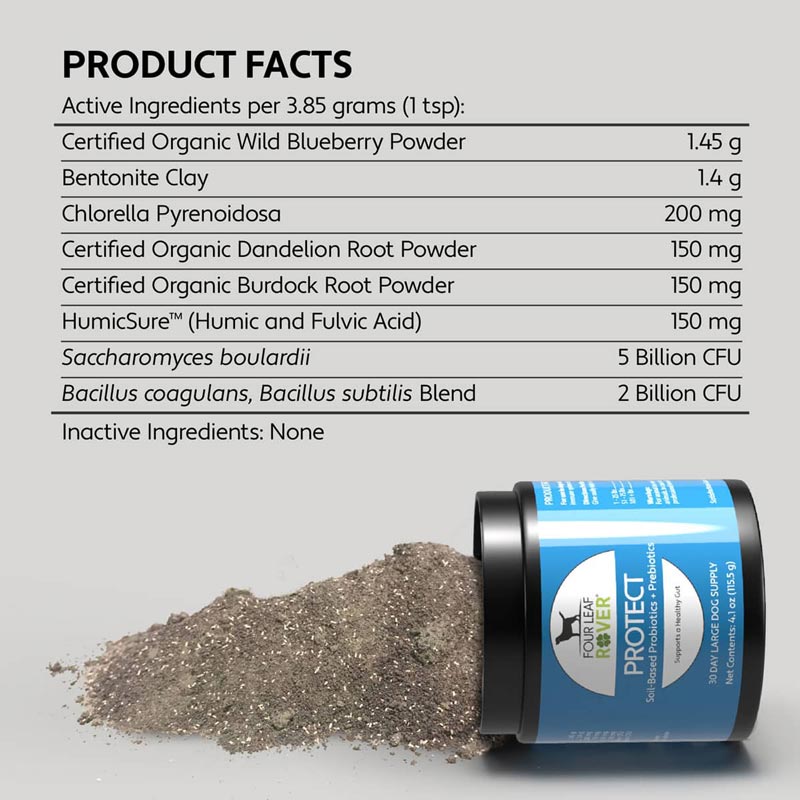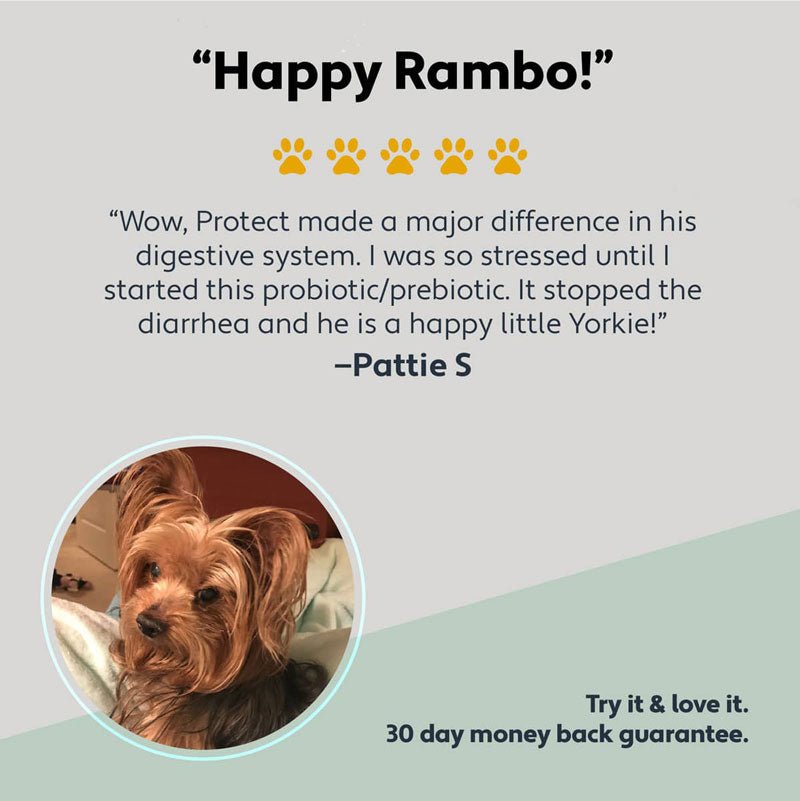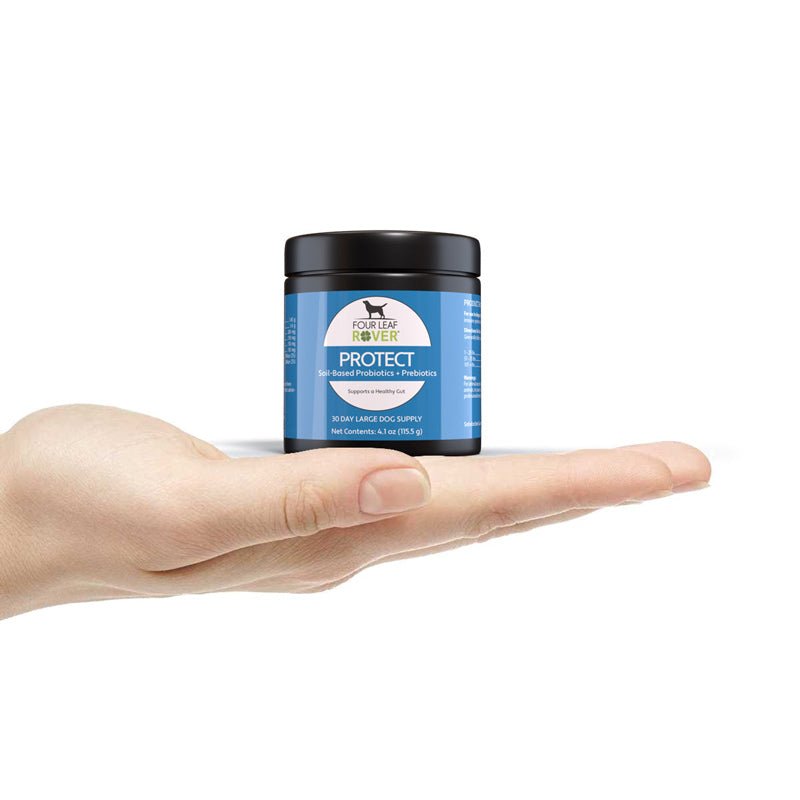 PROTECT - Soil Based Probiotics
Sale price

$36.00 USD
Regular price
(/)
---
Pickup available at CreatureLand Showroom
Usually ready in 24 hours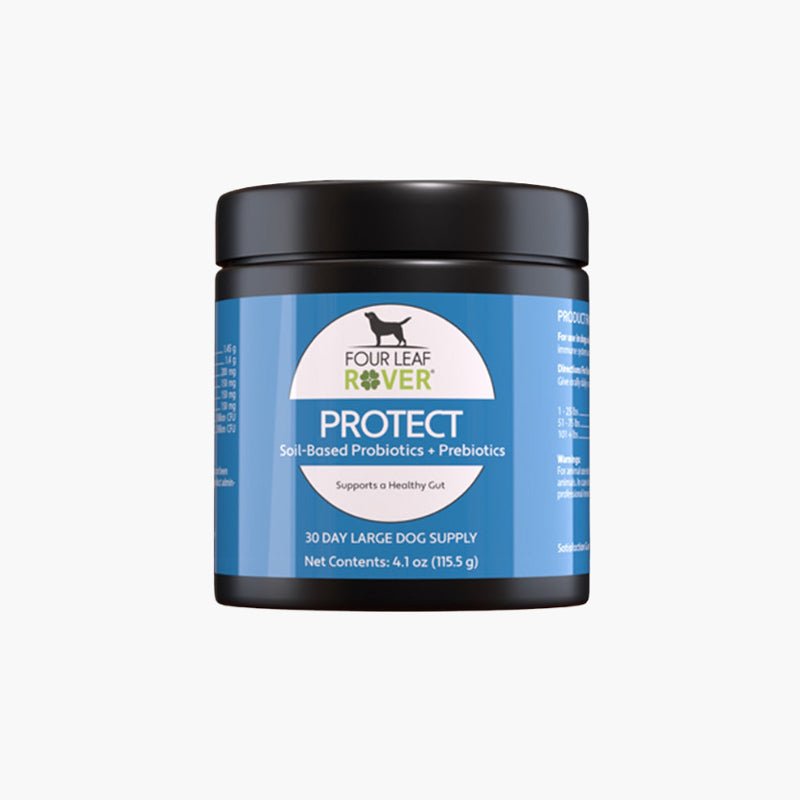 PROTECT - Soil Based Probiotics
CreatureLand Showroom
Pickup available, usually ready in 24 hours
22 Sin Ming Lane #08-86
Midview City
Singapore 573969
Singapore
+6588905339
PROTECT is formulated with ingredients that help support your dog's brain and immune system. It can be used daily and is rich in:


Soil-Based Probiotics


These probiotics have proven to be robust species that can easily survive changes in pH and temperature levels (unlike traditional probiotics). This means they can better colonize and fulfill health benefits. 

Saccharomyces boulardii


Fight off yeast and Candida with Saccharomyces boulardii. It's a good probiotic yeast that helps support your dog's gut.

Certified Organic Wild Blueberry Powder


Wild Blueberries can help maintain a healthy gut flora, support brain function and fight off oxidative stress.

Bentonite Clay, Chlorella, Humic & Fulvic Acid


PROTECT contains chlorella, bentonite clay, humic and fulvic acid to assist in daily detoxification from toxins, chemicals and pesticides. 

Organic Dandelion & Burdock Root


Is a healthy helping of whole-food prebiotics for your dog.

Product Info

PROTECT is veterinary formulated and ideal for every day use. It can be given to all dogs, even the ones dealing with immune or digestive challenges.


The SBOs (Soil-based probiotics) are species of bacteria from in soil. 


These SBOs are spore-forming and can form a hard shell that protects them from high temperatures, stomach acid and some antibiotics. 


There are even some antibiotics made from SBOs for this same reason. 


And there's good news for dogs who have an allergy to dairy. Unlike a lot of probiotics that come from dairy (like Lactobacillus and Bifidobacterium), SBOs in PROTECT are hypoallergenic.

Ingredients

Active Ingredients per 3.85 g (1 tsp):


Certified Organic Wild Blueberry Powder ..................  1.45 g
Bentonite Clay ..............................................................  1.4 g
Chlorella Pyrenoidosa ..............................................  200 mg
Certified Organic Dandelion Root Powder ................  150 mg
Certified Organic Burdock Root Powder ...................  150 mg
HumicSure™ (Humic and Fulvic Acid) .......................  150 mg
Saccharomyces boulardii ................................... 5 Billion CFU
Bacillus coagulens, Bacillus subtilius Blend ....... 2 Billion CFU


Inactive Ingredients: None

Directions

Give orally daily or as directed by your veterinarian.

| | | |
| --- | --- | --- |
| Body Weight | Amount Per Day | Supply |
| 5-25 lbs | 1/2 tsp daily |  60 day supply |
| 26-50 lbs | 3/4 tsp daily | 45 day supply |
| 51-75 lbs | 1 tsp daily | 30 day supply |
| 76-100 lbs | 1 1/2 tsp daily | 23 day supply |
| 101 + lbs | 1 tbsp daily | 12 day supply |

Net Contents: 4.1oz (115.5g)

FAQs

Can I give my dog PROTECT daily?


Yes! PROTECT is designed to support your dog's gut daily.


As a great maintenance tool, PROTECT's healthy soils and whole food prebiotics work synergistically to help remove heavy metals and toxins from you dog.


If you're looking for a probiotic as a daily preventative plan for good health, soil-based probiotics like PROTECT are a great choice. They a less likely to create common issues like small intestinal bacterial overgrowth (SIBO). 


If my dogs on antibiotics, can I still give Protect? 


Yes. In one study from 2018, they found that a good way to restore your dog's microbiome after a round of antibiotics is with soil-based probiotics like Bacillus subtiliis and Bacillus coagulans and Saccharomyces boulardii. 


This study also showed that Lactobacillus probiotics after antibiotics delayed the microbiome's recovery compared to a group given no probiotics.


*Suez J et al. Post-antibiotic gut mucosal microbiome reconstitution is impaired by probiotics and improved by autologous FMT. Cell. 2018 Sep 6;174(6):1406-1423.e16.


Can I give my puppy PROTECT?


In most cases, if you have a new puppy, it's best to focus on fresh whole food nutrition for a good start to life.


But in some cases, probiotics can be helpful. If your puppy is going from a kibble diet over to raw or fresh foods, then a probiotic can help support good digestion to prevent digestive upset. 


What is the benefit of Chlorella?


Chlorella is a natural detoxifier. That's why it makes a great addition Protect's formula. Its job is to bind to and flush toxins, like heavy metals, from the body. 


Heavy metals can often be found in …

Pet Vaccinations
Flea and tick preventatives
Heartworm preventatives
Processed kibbles
Pesticides (like glyphosate)
Pollution 

Why does PROTECT have fewer bacteria content than other probiotics? 


Soil-based probiotics are spore-forming with a hard coat that makes them more resilient and protects them from high heat, stomach acid and antibiotics. It also helps them populate in the colon where they're supposed to be, rather than in the small intestine. 


Other probiotic strains like Lactobacillus and Bifidobacterium are delicate and often don't survive once they hit the stomach. The ones that do survive, don't last long and are eliminated from the gut within 24 hours.


Does Protect reduce toxins in my dog?  


Yes. Protect's hand-picked formulation includes chlorella, bentonite clay and humic and fulvic acids. These ingredients do a good job of binding to heavy metals and toxins to help them flush out of the body. 

Humic and fulvic acids support detoxification in the body and help to neutralize toxins.

Bentonite clay absorbs 8x higher than other clay.

Chlorella binds to and removes heavy metal toxins from the body

 

Should I give my dog PROTECT if he has Leaky Gut?


If you think your dog has leaky gut, we recommend Gut Guard.


Gut Guard is veterinary-formulated and rich in soothing herbs and foods that have an affinity for the gut lining and help soothe and repair leaky guts. 


The robust probiotics in Gut Guard are much more likely to survive the harsh gut environment better than traditional probiotics (which helps them stand up to stomach acid and high heat). Because of its hardy capabilities, it can do its job to help control inflammation and the natural prebiotics can help restore healthy bacteria colonies. 


Will PROTECT help my dog's diarrhea? 


Yes, Protect can help.


Research has shown that probiotics can cut diarrhea recovery time in half. To better address any other underlying gut issues, it's recommended to continue on the probiotics for a few weeks at the least. 


If your dog's dealing with chronic diarrhea or a more serious digestive disorder, reaching for a multi-strain probiotic with gut-soothing herbs might work better. 


If you don't have success with PROTECT try Bifido For Fido instead. (Take advantage of our 30 day money back guarantee). While Protect is a daily probiotic, BFF is a multi-strain probiotic for occasional digestive upset. 


If my dog has SIBO, should I give him PROTECT?? 


PROTECT has spore-forming (soil-based) bacteria, which can be a good match for your dog if he has small intestinal bacterial overgrowth (SIBO).


The robust probiotics have a tough coating that enables them to make their way down through the small intestine and colonize in the colon where they start doing their job.


Other probiotics can be fragile, and often don't make it past the stomach acid to benefit your dog. 


How do I know if my dog needs probiotics?


80% of the immune system lives in the gut, which means, most dogs can benefit from pre & probiotic blends.


Beneficial bacteria have some key roles in your dog's body. They can help:


Digest food
Produce essential vitamins (like vitamin K & B vitamins)
Produce serotonin and impact moods
manufacture enzymes
Reduce the gut pH
Crowd out dangerous bacteria
Produce fatty acids that depress the growth of bad bacteria
Support immunity


What is Saccharomyces boulardii?

Saccharomyces boulardii is a considered a probiotic because it benefits the gut and immune system like a probiotic. It's actually a healthy yeast.


S. boulardii can help with digestive upset and during antibiotic use. This healthy yeast can't be killed by antibiotics so it can safely be taken at the same time to to help protect beneficial gut bacteria. 


To add to its impressive resume, S. boulardii is also used to treat diarrhea and Candida and yeast. 
Shipping and Delivery

  

Countries
 Cost
Duration
Services

Singapore

$1.80
2 - 5 working days

Small Parcel Only:

SingPost Standard Mail (Non-Trackable)

 

$4.50
2 - 3 working days 

(FREE above SGD $68, *except frozen food)



 

Standard Delivery 

(Trackable)

$15
Next work day delivery (FREE above SGD $180)
Express Next Day Delivery

 

Singapore

(Frozen Food)

 

$10
1 - 3 Working Days
uParcel

 

$6

 

1 - 3 Working Days
(For orders above $68)

 

uParcel

 

Free

 

Next Day
(For orders above $180)

 

uParcel

Malaysia 

Calculated at checkout

Packet Plus: 6 - 18 days

Airmail: 4 - 8 working days

Express: 1 - 2 working days

Small parcel: 

SingPost Airmail (Registered) / DHL Express 

Calculated at checkout

Standard: 6 - 8 working days

Priority: 2 - 4 working days

Express: 1 -2 working day

Big parcel:

Speedpost Standard/Priority

DHL Express

Rest of the world

Calculated at checkout




Refer to table

Small parcel: 

DHL / UPS / Aramax / SF Express / SingPost 

Calculated at checkout




Refer to table

Big parcel:

Speedpost Standard/Priority

DHL Express

 

* Estimated delivery time applies to major cities only. All items may be subjected to customs inspection which may require additional days. Any delay at the destination countries is beyond our control.

* All shipping comes with tracking number (may subject to destination country's postal service provider) unless stated otherwise.

* Price stated is in Singapore Dollars (SGD).

* Transit time is excluding order processing time of 1-2 working days. 

SINGAPORE 

FREE doorstep delivery for orders above SGD 68 *except frozen food.

FREE next day doorstep delivery for orders above SGD 180.

Small Parcels under 450grams (bandanas, collars, leashes):

- Flat rate $1.80 via SingPost Standard Mail (Non-trackable).

- Flat rate of $4.50 via SingPost SmartPac, Ninja Van Standard Delivery and Qdelivery.

- Flat rate of $15 for Ninja Van/Qdelivery Next Day delivery. 

Frozen Food


- Flat rate of $10 for 1 - 3 Working days via uParcel.


- Flat rate of $6 for 1 - 3 Woking days via uParcel for orders above SGD 59.


- Free Delivery Above $180.

*Delivery time frame between 6pm - 10 pm for frozen food delivery. 

*Please allow 1 working day for us to process your order. 

*Please note that if you select to send your order without tracking, CreatureLand cannot take responsibility for items lost in the post.

 - ORDER TRACKING -

Track your orders here 

Or simply log in to your account's order history page.

 

INTERNATIONAL

- SHIPPING COST -

We aim to provide the most affordable rate to everyone all over the world! All shipping cost will be calculated at checkout and is calculated either by actual weight or volumetric weight.

The cost for heavy and bulky items can be really exorbitant. You may use a forwarder or contact us hello@creaturelandstore.com and we can try to work a way for you!  

 - COURIER SERVICES -

 We use DHL eCommerce/Express, UPS worldwide saver, Aramax, SF Express and Speedpost. All shipping methods comes with tracking.

- TRANSIT TIME - 

The transit time for each destination country will be displayed at checkout along with the shipping cost.

For Speedpost Standard and Speedpost Priority, you may refer the list here.

Most of our parcel deliver within the given transit time. However, some delivery may take longer due to customs clearance, festive season, unforeseeable natural disaster and local postal service.   

We appreciate your patience! 

 - TAXES AND IMPORT DUTIES -

Import duties, taxes and charges are not included in the item price or shipping charges. These charges are the buyer's responsibility. Please check with your country's customs office to determine these additional costs.  

  - ORDER TRACKING - 

Track your orders here 

Or simply log in to your account's order history page.

 

Can't find what you are looking for?

Visit our FAQ or email us at hello@creaturelandstore.com.
- RETURNS -

If you wish to return an item, email us at hello@creaturelandstore.com within 3 days from the date order is delivered. We will issue you a Returns Merchandise Authorization (RMA) number and guide you through the return process.

To be eligible for a return, your item must be unused and in the same condition that you received it. It must also be in the original packaging. Return that are damaged or soiled may not be accepted and may be returned to the customer.

You will be responsible for paying for your own shipping costs for returning your item and the package until we receive it so please make sure your item is insured and/or able to be traced. 

We do not accept return for food, litters, sanitary goods, gift cards, toys, health and personal care items and sale items.

- EXCHANGES -

Please note you can only exchange for incorrect items received. If you wish to exchange your item for an alternative product, we suggest that you return it for a store credit and purchase the new item separately. 

Exchange is not guaranteed and is subjected to our review of the returned product.

All shipping charges of the replacement item will be cover by you along with any relevant import duty and tax charges will that may apply.

- REFUNDS (if applicable) -

Once your return is received and inspected, we will send you an email to notify you that we have received your returned item. We will also notify you of the approval or rejection of your refund.

If you are approved, a refund store credit will be credited to your account within 3 working days. 

Do note that when you return an item, you lose the reward points you originally earned by buying the item in the first place.

- FAULTY GOODS -

Goods are faulty if they are received damaged or were a manufacturing fault occurs within 48 hours of purchase. Items that are damaged as a result of normal wear and tear are not considered to be faulty.

If you would like to exchange a faulty item instead of obtaining a refund, please be aware that we can only replace it for the same product in the same size, subject to availability. 

- COLORS -

We have made every effort to display as accurately as possible the colors of our products that appear on the Site. We cannot guarantee that your computer monitor's display of any color will be accurate.

- LATE OR MISSING REFUND (if applicable) -

If you haven't received a refund yet, please check your rewards tab that you will be able to access via the drop page under rewards program or the tab on the bottom left, if still not in again try refreshing the page. But do note that there is often some processing time before a refund is posted, If you've done all of this and you still have not received your refund yet, please contact us at hello@creaturelandstore.com.



If you need more help, please contact us at hello@creaturelandstore.com.




Choose options